No, you cynical fuckwits. I'm not talking about the Sam Malone variety of rehab. Zauner didn't fall off the wagon.
Gregg Zaun is starting his rehab assignment in Dunedin today to prepare for a series of exhibition Gulf Coast League games beginning tomorrow. Zauner's plan is to play some DH for a couple of games before trying out his broken hand by going behind the plate.
As long as there are no hiccups, Zaun will stay in Florida for a week before moving up to Triple-A Syracuse. From there, he hopes to return to the big club when the Jays open their six-game West Coast road trip in Los Angeles, starting June 8.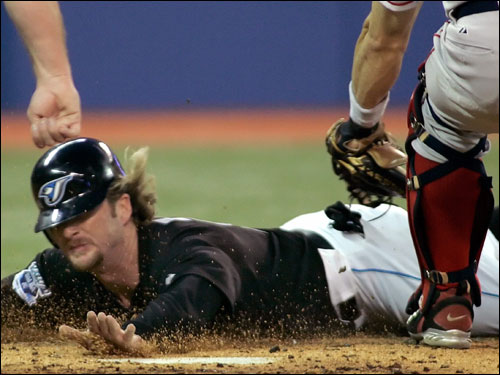 When asked if there was anything positive to take away from playing in Dunedin, Zaun responded, "Well I get to go to breakfast at Lenny's, I know that, I get to go back to my breakfast spot. That's the most promising thing about heading down there. At this minute, I'm looking forward to having breakfast on Wednesday."
Some people eat breakfast, Zauner loves breakfast.