While most of our DJF guides instruct readers on how best to get fucked up, how best to fuck someone else up (or down if you prefer), or how best to sneak stuff into the stadium to get fucked up, I wanted to acknowledge the fact that there are respectable teetotallers out there in the Rogers Centre crowd and explain that baseball audiences aren't always as ruckus as a stadium full of people waiting for a Bludklot, Festering Puke and Zombie Hate Brigade triple bill.
In fact, one of my favourite regulars from last season was a man in his mid to late thirties who would bring his three young kids with him to games and patiently explain to them some of the finer points. I never once saw him have to keep one eye shut in order to better judge the distance between steps in an aisle on his way to get more to drink, but I respected him nonetheless.
As the 2008 regular season creeps closer and closer to the starting line, I thought that now would be as good a time as any to prepare ball game goers for the time of their life.
Tickets
Don't ever, ever, ever buy tickets from scalpers, even if they look like Gregg Zaun's rickbag cousin. They are the lowest form of life on a baseball stadium's property and that includes the people who get excited over getting a shitty box from FedEx. Scalpers are not conceived naturally. They are created through asexual means and are birthed out of pods that are found in sewers.
You know when you're walking up Front Street and that whiff of maggoty rancour hits your face? That's not an ordinary urban odour. That's the smell of a scalper's afterbirth seething out of a birthing pod.
Don't buy tickets from them.
For almost every regular season game, you can purchase your seats through the Jays ticket office on the day of the match. If you're one of those plan ahead types, you can also purchase tickets online, over the phone or at those Rogers Video stores that I don't go into anymore because I racked up some serious late charges on a Hot Tamale DVD.
Getting To The Game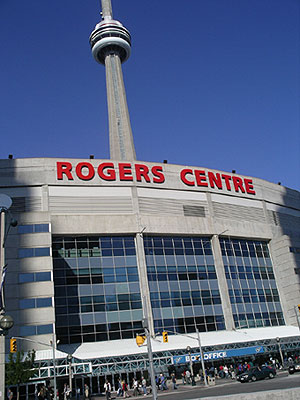 I know it sounds hippieish or whatever, but seriously your best options are walking or bicycling. The TTC can be more infuriating than a rusty screw being driven into your backside if it's only minutes before the opening and you still have to pick up your tickets at will call. Driving in gridlocked traffic downtown just prior to a game is even more unpleasant, and finding adequate parking isn't exactly a treat either.
If you have to take the TTC, make sure you find your way to the Spadina Streetcar. In fact, go out of your way to get on this trolley and take it to the Bremner Blvd. stop South of Front. Trust me on this one. A bunch of idiots are going to get out at the Front stop and walk an extra kilometre to the game, but if you get off at Bremner you can cross Spadina and follow the boulevard right to the box office at Section 9.
If you have to drive, you're probably a weird control freak or you live far away which is even stranger. God help you in traffic, but if you're looking to park on the cheap, there are a bunch of buildings on Front Street between Spadina and Bathhurst. Some of these buildings have visitor parking areas you can use for a few hours. It's definitely a case of use at your own risk, but sometimes $15 can be better spent on a beer and a . . . well, a beer inside the stadium, than on parking.
Inside The Stadium
I've never really understood the thrill of getting a ball at a game, but some people go berserk for one. If you want to ensure a souvenir, during the visiting team's pre game warmup, go down the first base side, close to the field, but avoid the section with the Comfort Zone seating. Not only are you likely to step on crack vials on the floor (never mind, that's a different Comfort Zone), the ushers are a bit more protective of this area. Try Section 114 or the outfield side of 115, and politely ask one of the opposing players to toss you a ball.
I'm not going to shit you. Having a great rack or a cute kid definitely helps, but most ballplayers or equipment managers are accommodating if you're genuine and polite. A few good things did come out of the work stoppage in 1994.
If a foul ball is more your game, be a man, and please don't use a baseball glove or fishing net. It's sad, and when you catch a foul with something other than your bare hands it makes my balls feel like I just saw someone get kicked in the gonads. You can increase your chances of feeling the smack of manhood on your hands by sitting anywhere in the 113s on the first base side or the 130s on the third base side.
For home run balls, you can check out Hit Tracker Online to see where the balls going yard have landed at Rogers Centre in the past. Last season, with the Jays predominantly right handed lineup, Section 138 in left field was the money shot section.
Never, ever get tricked into sitting in any of the following sections: 141, 142, 237, 238, 520, 521. These are the Cable Box's non-alcohol seating areas.
Getting On Jays Vision
There really is little mystery to getting on Jays Vision, or what was formerly called The Jumbotron (fortunately with last year's addition of Frank Thomas to the ballclub, a jumbotron is still a part of the Rogers Centre experience). All you have to do is act like one of the "Special Kids" from your elementary school when you stole their Ritalin and traded it to a high school kid for a mickey of rye, or a senior citizen who lost his heart medication.
Between innings, dance to whatever shitty song offends your ears over the PA system. Dance, dance, dance. Do the lawnmower, throw some fist pumps, bring the mother fucking hammer down. Do all this, and you will get on Jays Vision and your sad need for attention will momentarily be assuaged.
Once again, if you've got a nice rack or a cute kid, you'll easily get the attention of a cameraman in the camera bays next to the dugouts (near Section 116 on the first base side and Section 127 on the third base side).
During weekend games, keep an eye out for in-game hosts Ryan Greer and Jill Clark patrolling your section. Pay them a compliment without it sounding sarcastic, and they may pick you for the next trivia question. Answer correctly and you could win a glamourous duffle bag or a gift card for a strictly mediocre chain restaurant.
Foodings
As previously mentioned, you can bring your own food into Rogers Centre. As long as it's properly packaged and isn't laced with a detectable narcotic, you'll have no problem getting it past security.
If you don't mind dropping $10 on items that normally cost $5, try a Philly Cheese Steak near the top of Section 114 or a runny burrito at the top of Section 129. Otherwise, combo up your meals at the regular concession stands and the prices are only partially outrageous. Just remind yourself that you'd probably pay around the same amount for the same food at a pub anyway.
If you're craving a hot dog though, don't waste your time at the regular concessions. Seek out the kosher dogs on the third base side. Don't waste any time at the noodle house either. You'll do better to wait until after the game and buy a $.25 pack of Mr. Noodles.
Exit Stage Right or Stage Left
The end of the game is usually a clusterfuck. I'm simply not cut out for walking outside the Rogers Centre in the cold Ontario Spring air or sweaty Ontario Summer air and breathing in the second hand smoke of future cancer victims while getting my ass credit carded by denim cut-off wearing former convicts yelling "How 'bout those Blue Jays!"
That's why, no matter where I'm sitting, I make my way to the exit ramps near Section 108 or Section 135. Walk up one level, and you're free to exit the ballpark like a human being instead of cattle. You come out of Rogers Centre close to Front Street and about ten minutes ahead of the people who used the other exits.
On Saturday and Sunday, never use the ramp near Section 108 because that's where the munchkins line up to run the bases after the game. Anytime I start to get serious with a girl, I take a walk up this ramp after a matinee game. Once I exit Rogers Centre, I immediately place a telephone call to terminate the relationship.