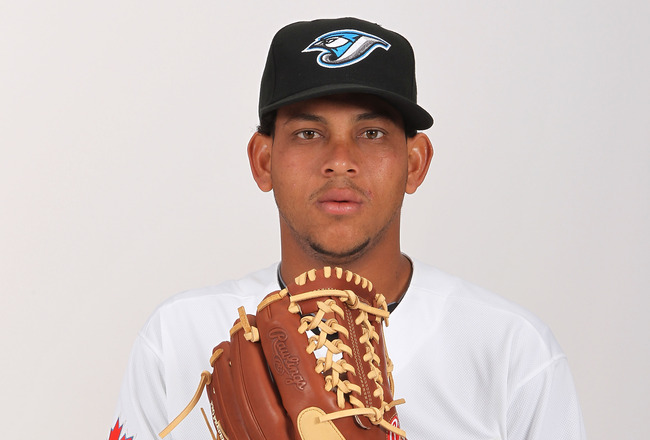 Holy shit, we forgot about Henderson Alvarez!
With all the horseshit surrounding the man in white and the Jays being called out as possibly the shittiest cheaters in the history of anything, we kinda didn't have time to get excited about Henderson motherfucking Alvarez today. The flame-throwing right-hander debuts tonight in front of what should be– but, let's be serious, won't be– a sea of white in the outfield stands at Rogers Centre, and… keep an eye on the radar gun, folks, because things could get a little interesting.
But keep an even better eye out for breaking balls, because we're told that those are going to be the key to his success as a big league starter– and while the pitch has reportedly come along well this year in New Hampshire, it's by no means a finished product, and may never be. (In which case, oh well, he goes to the bullpen and lights shit the fuck up out there.)
Scuttlebutt
Speaking of things that, like Henderson Alvarez, kinda got forgotten in all of today's commotion, apparently someone forgot to remind John Farrell that a guy with a .272 OBP is a terrible choice for a leadoff hitter, that Brett Lawrie might be pretty good, and that nobody should be hitting behind Aaron Hill.
John Lott of the National Post learns that Henderson Alvarez set a lofty goal for himself this year: to pitch for the Blue Jays. Can someone tell him next year he should make his goal to pitch in the World Series?
Do yourself a favour and watch the video at Sportsnet of an angry Alex Anthopoulos speaking to reporters this afternoon in his "this whole thing is stupid" press conference regarding the sign stealing allegations.
OK, one more thing on the sign stealing horseshit: Over at Stephen Amell's Prelude to a Big Break he weighs in, and adds a description of a Sportscenter package that we haven't been able to see up here in Canada yet– one which Bobby Valentine, on live TV after it aired, supposedly called it "unfair" and "misleading." I gotta see this shit!
Strange Animal Watch
Dustin Mc-Lawrence-Gowan– the Strange Animal– made his first rehab start today for New Hampshire, getting through four innings on 43 pitches, allowing just one hit and walking two. Could this really be happening???
Shi Davidi tweets: "Blue Jays manager John Farrell says once minor-league games end in early Sept, McGowan 'could very well be (assigned) right here.' "
TV: Sportsnet One
And now the lineups, by way of the live box score at theScore.com…
Toronto Blue Jays
R. Davis LF

Y. Escobar SS

J. Bautista RF

A. Lind 1B

E. Encarnacion DH

C. Rasmus CF

A. Hill 2B

J. Arencibia C

B. Lawrie 3B
H. Alvarez RHP
Oakland Athletics of Philadelphia Kansas City Oakland
J. Weeks 2B

C. Pennington SS

H. Matsui DH

J. Willingham LF

D. DeJesus RF

C. Jackson 1B

R. Sweeney CF

K. Suzuki C

S. Sizemore 3B
G. Gonzalez LHP
* Note: I've adjusted the Jays' record to reflect the number of games they should have won, based on all the cheating they've very obviously been doing.