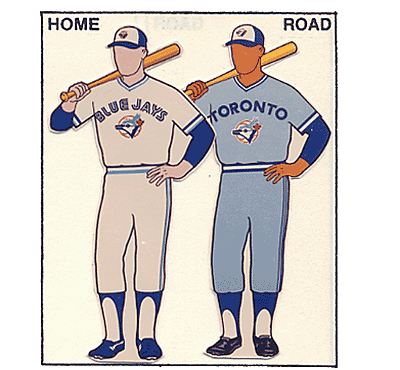 OK, the hullabaloo about the Jays being the shittiest cheaters in the history of sports has gotten a little out of control today, so let's settle things down a bit and get indignant about something that really matters: clothes!
Specifically, what the Jays will be wearing next year, and just what the fuck Mark Zwolinski meant in this morning's Toronto Star when he wrote that "it's expected the Blue Jays uniforms will have a new look for the 2012 season, one that will reflect a Canadian theme more than ever," confirming that "the change has been in the design phase for months and should be ready for unveiling by the beginning of next season."
Space daddy, no!!! What the fuck are they going to do?
A more Canadian theme? Like, maybe with a lot more red? As in… Rogers red???
I'm wildly speculating, of course, but what jumps out at me is the implication in the "more than ever" bit that they're not just going to do the right, sensible, easy, fan-friendly, perfect, too-obvious-to-fuck-up thing and just go straight back to classic, World Series-era unis?
Ugh. I mean, that doesn't rule out something close to the originals, something similar, something at least with the old logo on it. But… they're totally gonna fuck this up, aren't they?
I mean… a Canadian theme more than this. Double ugh.