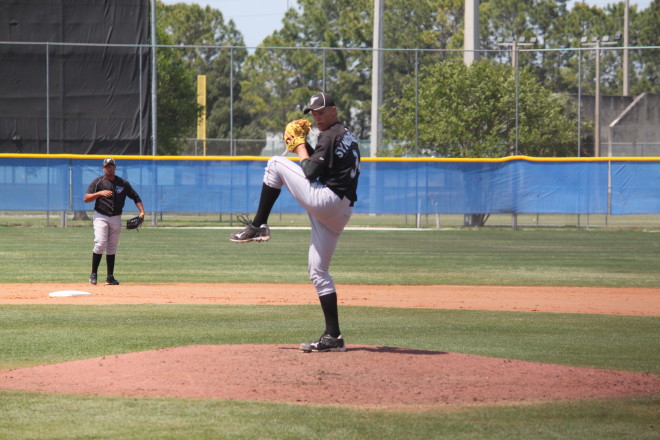 The Jays are so tight-lipped about… well, everything that you don't often hear a rumour about their involvement in a deal that fizzled that you can take all that serious. That's why it was interesting this afternoon to hear Jeff Blair, filling in for Bob McCown on the Fan590′s Prime Time Sports, say that he'd spoken to Oakland A's sources– since no one at 1 Blue Jays Way will talk– saying that Billy Beane was adamant on getting minor league right-hander Noah Syndergaard from the Jays in any deal for Gio Gonzalez.
Syndergaard was recently listed as the seventh best prospect in a loaded Jays system by Baseball America, behind pitchers Dan Norris, Justin Nicolino and Aaron Sanchez, and ahead of Deck McGuire, Drew Hutchison and Asher Wojciechowski. He was fourth on John Sickels' list, a B+ pitcher who "can easily be in the A-range next year."
It's interesting that the Jays wouldn't bite on building a package for a quality Major League pitcher– or even Gio Gonzalez– around a pitcher who spent 2011 in Rookie- and A-ball. But as Mike Wilner pointed out in discussion with Blair, the Jays are keen enough to know that not every one of those high-end young arms will turn into a front-of-the-rotation starter, and to break up the group simply lowers their odds.
Still, I think they could part with someone like that, if they didn't truly believe in him. Of course, maybe they really were willing, and it was in the rest of the package that the Jays couldn't– or wouldn't– beat the Nationals. But it's interesting…
So… there's that.
Image via Batter's Box.