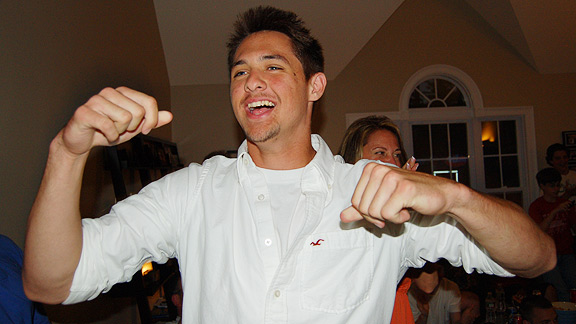 Yesterday some commenters and twitterers– @bluejaysbatboy seems to have been the first– came across an interesting, since deleted, tweet from what appears to be the father of the Jays' unsigned 2011 first-round pick, Tyler Beede, and as crazy as it sounds, a few of them thought it was more important to talk about it than to discuss the bullshit rumour that "NHL Insider" laid on us this afternoon. [Note: pfffft!]
Tweeting as @BaseballLifer11, Walter Beede reportedly messaged in the direction of @DarrenRovell that "Dr Andrews is just a Highered gun…Just ask AA!"
"AA" could very definitely be Alex Anthopoulos, just as "Dr. Andrews" could be the famous Dr. James Andrews, but let's not get too carried away in interpreting this. Just a day earlier Beede the elder tweeted that he wanted "to say THANK YOU, to Lawrence Academy, Canes baseball and the Toronto Blue Jays for makin 2011 a GREAT Year! Vandy and SEC Letgooooooo!"
Not much indication of bad blood there.
However, a month ago I passed along a comment from Keith Law in a chat at ESPN.com during which he was asked if Beede must be kicking himself for passing on the Jays' money to go to school, given that the new CBA will suppress the signing bonuses of drafted players going forward.
"No," KLaw said. "He and the Jays disagreed on the health of his shoulder. It wasn't strictly about money."
Interesting. Did the Beedes use medicals from Dr. James Andrews to contradict the Jays staff's assessment of his shoulder, and were the Jays unmoved by what they were being told by this hired gun? Were the Jays trying to limit Beede's signing bonus by casting him as damaged goods?
Don't look at me, I don't fucking know.
The much, much more interesting question is: is Tyler Beede seriously "Young Beedah," and is this song seriously about his choice to go to Vanderbilt over joining the Jays? And is it also kinda not entirely terrible?
Since it was posted on his Facebook fan page and is recited in the first person, I'm going to go ahead and say yes. Yes, it is. Holy!