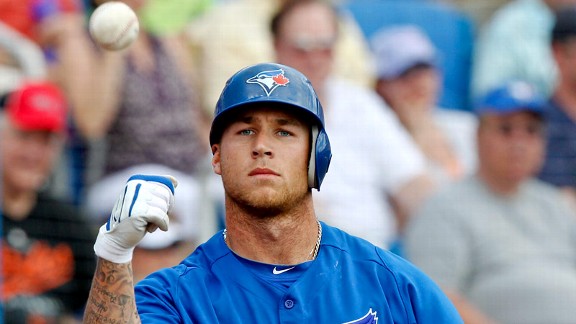 There are many interesting things in Jayson Stark's ESPN.com piece on Brett Lawrie– among them an attempted explanation of how the Milwaukee organization soured on his brash personality, and a dubious listing of the 13 players who, at age 21 or younger, OPS'd (in must larger sample sizes, most time) as high or higher than Lawrie's .963 last year, which comprises eleven men enshrined in Cooperstown (Mel Ott shows up twice!), Albert Pujols, and "Hal Trosky, whose spectacular career path was cut short by migraines."
Most interesting of all, however, are the plaudits reserved for the Jays young third baseman by Stark and the people he spoke to for the lengthy feature.
"Wow," said one longtime scout.
"Oh my God," said another.
"Speed, power, attitude, hustle — and he's got every intangible you could ever want in a player," said another.
"He's going to be a great offensive force," said yet another. "And defensively, I don't know what quality you'd want in a third baseman that he doesn't have."
And then you run across Blue Jays broadcaster Buck Martinez, a man who has seen many a ballyhooed young player hit the radar screen in his 45 years in professional baseball. But want to know where Brett Lawrie ranks? Here were the first words out of Buck Martinez's mouth when we asked him about the new third baseman in Toronto:
"He's got more ability than George Brett, and I was George's roommate in Kansas City," Martinez said. "Now obviously, he doesn't have 3,000 hits or batting titles or an MVP award, so he's got a long ways to go. But he runs and he plays with the same kind of intensity as George did. And that's as high a compliment as I could pay any player."
Oh, and there's more.
Stark himself says Lawrie's is "another name that should never again be left off your handy dandy list of Baseball's Brightest Phenoms."
Jays manager John Farrell says that he's "part of the heartbeat of this team," noting that "Leadership, to me, doesn't have an age."
"In time," Farrell says, "as long as health is on his side, he's going to put himself in position for everybody to take notice of who Brett Lawrie is."
Even Lawrie himself seems to understand that he's got something special.
"It felt like I was trying to be changed," he says of his time in the Brewers organization, "like they were trying to change me, like I was the same as everybody else. I'm not the same as everybody else. I'm Brett Lawrie. It's like, everyone's different. You can't try and make everyone be the same."
Stark writes:
Asked if the success he had surprised him in any way, Lawrie replied, almost casually: "Not really, because I just knew that it's baseball. I wasn't worried about who was throwing against me or whether we were playing the Yankees. It wasn't about that. It was like, 'We're playing in a big league stadium. We're playing on TV. Let's go have some fun.' And that's what it was about to me. It was, like, let's go play."
Asked again if he'd ever wondered, just a little, whether he could do what he did at that level, Lawrie responded, remarkably matter-of-factly: "No. I've always known that I could play up there. It was just about me getting the opportunity to. I've never questioned myself about playing at the big league level because all I've ever wanted to do my whole life is play against the best. And when I get put up against the best, I turn on my jets."
Holy fuck yes.