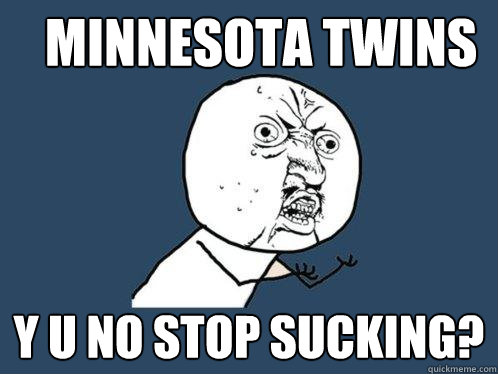 Alright, here's where all our bluster about how terrible the Minnesota Twins are comes home to roost, because the Jays finally get a crack at Jose Bautista's most favouritest opponent (1.941 OPS over six games in 2011), and now they'd better get it goddamn well done against the lowliest of the low, otherwise the hysterical moron brigade is going to have something new to spew about real quick.
Not that I don't like the Jays' chances sending Henderson Alvarez to the hill against Jason Marquis, it's just… holy ugh-ing fuck, what a disaster it would be to stumble against the Twins with the Rays and Yankees waiting for the Jays at SkyDome next week. We're a million miles from must-win territory, but next week sure sets up a whole lot more fun if getting crushed by our division rivals doesn't put the club into that much deeper of a hole.
At the same time, that's fucking loser talk! The Jays are doing alright, and Bautista hasn't even started to hit yet. There is no goddamn good reason they can't run the table here for a week and wind up somewhere down the line at the magic 27-14 they were a couple years back, before reality decided to rear its ugly head. Only this time, we've got Vladdy coming to take us up fifteen notches offensively mid-summer. PLAYOFFS!!!!!1!
Um… just don't expect it.
Scuttlebutt
I know we shouldn't poke the Baseball God-shaped bear, but seriously, Minnesota. Starting ex-Jay Darrin "Pat" Mastroianni in left? And actually having a guy in your lineup you'd hit below him? Below the guy who, last year, couldn't slug .390 in Vegas?!? Dear lord…
He may have wiffed like Adam Lind against a lefty on his age (Lind is 28 and will be 29 in July, which is most definitely not 27), bubbly Eno Saris of FanGraphs calls the Jays' signing of Vlad Guerrero "a beautiful idea."
Before today's big news, Mop Up Duty had a different idea for taking the bat out of Adam Lind's hand against lefties– platooning him with the left-hitting David Cooper, on account of the fact that Copper has reverse splits. Of course, even if he didn't, pretty much anybody is better than Lind at this stage.
Guy Spurrier of the National Post reports on the Guerrero (not "Guererro"– who knew?!?) signing, and has a bit of a different take. "It could be that the Jays want Guerrero's right-handed bat to come off the bench or to possibly platoon with Adam Lind, he writes, "although that would be far-fetched for a club that appears to be invested in turning Lind's bat around." I'd be more intrigued were it not for the fact that said investment looks more and more every year like a Ponzi scheme.
If the game somehow goes south and you're looking for something to ease your tension, how about Alex Speier of Boston's WEEI wondering whether the Red Sox actually have the talent to be all that much better than they've shown.
TV: Sportsnet
And now the lineups, by way of the live box score at theScore.com. And for those of you who'll be out and about, be sure to follow all the action on your phone with Score Mobile…
Toronto Blue Jays
K. Johnson 2B
Y. Escobar SS
J. Bautista RF
E. Encarnacion DH
E. Thames LF
B. Lawrie 3B
C. Rasmus  CF
A. Lind 1B
J. Arencibia C
H. Alvarez RHP
Minnesota Twins
D. Span CF
B. Dozier SS
J. Mauer 1B
J. Willingham DH
R. Doumit C
T. Plouffe 3B
E. Komatsu RF
D. Mastroianni LF
A. Casilla 2B
J. Marquis RHP
Image via Brad White/Getty.