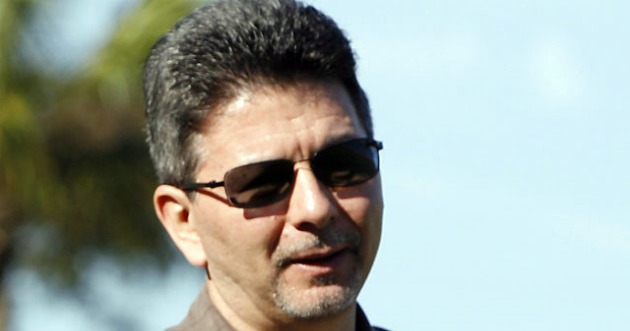 Awesome stuff that you must check out over at Jays Journal, as Jared Macdonald went down to Lansing to get a look at the Jays' Midwest League affiliate when, lo and behold, a shit-tonne of Jays front office staff showed up, including Assistant GM– and spurner of the Baltimore Orioles– Tony LaCava, who was kind enough to grant Jared an interview, which got rather extensive.
Since they were in Lansing, much of the talk revolved around the big four pitcher the Jays have there– Sanchez, Syndergaard, Nicolino and DeScalfani– and while you'd fully expect that a high-up like LaCava wouldn't shit down the throat of his own prospects, the glow evident in his comments is certainly palpable on the page.
For example, he brings up Shaun Marcum in comparison to DeScalfani, and believes that Nicolino can be "a heck of a pitcher," despite mild concerns about his velocity. "Already he'll show you 92," he explains. "He doesn't pitch at 92, but his velocity's creeping up since he signed, so I wouldn't be surprised if there's a little bit more fastball. Not that he needs it."
Aaron Sanchez, of course, gets the greatest plaudits, with LaCava suggesting that club thinks the 19-year-old's work-in-progress changeup is "going to be the third plus pitch that he has," and that everything about his development– the out-pitch curve, the increasing fastball velocity, and the "movement, and angle, and command of it"– is coming along swimmingly.
LaCava also touches on low-minors guys like Griffin Murphy, Jacob Anderson, Dwight Smith Jr., and Adonys Cardona. He talks the kind of sense you wish much of the media and fans would grasp when talking of John Stilson's prospects for being a starter, explaining that "if you can get 200 innings as opposed to 60, those 200-inning guys are so hard to find, so you want to make sure that you explore that. We think Stilson has the weapons to start, and we're going to give him a chance."
He also spoke of Michael Crouse, Santiago Nessy, and Yan Gomes, on the player side of things. Of interest as well, LaCava assured Jared that the club has guys–  Baseball Information Analyst Joe Sheehan and Assistant General Manager Jay Sartori, in particular– working on ways to "translate what happens in Vegas and normalize the numbers," which… makes total sense, while in no way suggesting that it's not fucking ridiculous to have their affiliate there.
Interesting stuff, and well worth a read, beyond my little rundown. Do it!
Image via CBS Sports.