Jose Reyes is like James "Whitey" Bulger.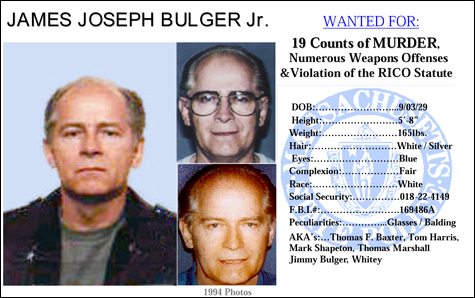 Now that Osama Bin Laden is dead, someone has to move to the top of the FBI's Most Wanted List, and Whitey Bulger makes sense, as a former member of the Irish mob in Boston wanted for murder, racketeering, and drug trafficking.  At the moment, Bulger is in the wind, and there hasn't been a credible sighting of him since 2002.  The reward for Bulger is currently at $2 million, the highest of any of the remaining nine men on the Most Wanted List.
Like Bulger, Reyes has become a highly sought after target, and one whose capture would provide a significant reward.  He is, by far, the best shortstop likely to be available this season, and a potential superstar performer if he's healthy.
So far, so good on the health front, as Reyes sports a .326/.377/.500 line with 5 triples to lead the NL, and 12 stolen bases against only 2 CS.  And if the various fielding statistics are to be believed this early in the season, he's even recovered a great deal of his fielding ability.  Given this resurgence, who's likely to claim that reward, or will Reyes slip past the roadblock that teams will set up for him?
Understandably, teams are hot to trot over Reyes, with the Giants allegedly already holding internal discussions about acquiring him.  But no one is as interested in Reyes, it seems, than those who write about him, since Reyes has inspired "where could he land" articles from Jon Heyman of Sports Illustrated, Jim Bowden of ESPN, and Eno Sarris of Fangraphs in the last week.  Even our very own Dustin Parkes has weighed in.
The destinations mentioned, however, each pose significant obstacles to getting a deal done.  As Sarris points out, the Giants' best pieces to move include a 1B-OF, where the Mets are pretty set, or pitchers that are still a ways back from the Majors.  The Reds and the Twins have payroll questions that might preclude their interest, unless the Mets are willing to kick in salary.  The Red Sox already have two shortstops on the MLB roster (Scutaro and Lowrie), and would likely need to move one of them first.  As Bowden points out, the Cardinals don't have much in the way of position players to offer, and the Brewers' minor league cupboard is completely bare.  The Angels are a potential landing spot, and probably have the pieces to get it done (including  young Jean Segura), but how much are they really willing to give away to a rental player when they already have a shortstop (Erick Aybar) who's off to a hot start.  And considering how they low-balled Carl Crawford and Adrian Beltre this offseason, there'd seemingly be little chance they'd pony up for Reyes long-term.
Which is why I'm inclined toward this article (sorry, behind a paywall) from earlier last month by Stephen Goldman of Baseball Prospectus, which argues that the chances of Reyes getting dealt are actually pretty low, especially considering the lack of a ready replacement either internally or via free agency in the offseason.  The shortstop market is pretty bare across baseball, which is why the Mets would be dealing from a position of strength.  But they would immediately have a pretty serious black hole in their roster, one that they don't have the personnel to fill quickly.
Indeed, keeping in mind that the Mets may be poised to receive an infusion of cash from the sale of a minority share of the club to Steve Cohen, there may actually be a decent chance the Mets seek an extension with Reyes when they have the cash in hand.  The smart play would seem to be to hold off on any radical moves until that ownership situation shakes itself to get a better sense of what the club can realistically afford as a payroll going forward.
And after all the plotting and scheming and searching, there's still an excellent chance that Reyes, like Whitey Bulger, eludes his captors.
The Common Man also writes for The Platoon Advantage and is a Twitter god.