Yesterday, just a week after Bob Nightengale reported that Jim Hendry's job was safe through next year, Tom Ricketts reversed engines full and put his over-matched GM out of his misery.  Hendry had a few good points, as Matthew Pouliot reminded us yesterday at Hardball Talk, but taken as a whole his tenure at GM has been marked by increasingly outlandish spending on an increasingly mediocre product.  Some of that falls on his ownership's mandate to add talent at any price, but some of that also falls on Hendry for not identifying the correct talent to shell out for, and for not being able to explain to his owners why their mandates didn't always make sense.  Sometimes, an architect needs to be able to talk his client out of making a huge mistake.
All across Great Britain there are examples of this.  They're called follies, out-of-place architectural constructions designed primarily as ornamentation, but mostly useless.  They are strange, odd inconsistencies in the landscape, mostly the products with too much money on their hands and a whim.  And they are just as awkward as Jim Hendry's Chicago Cubs.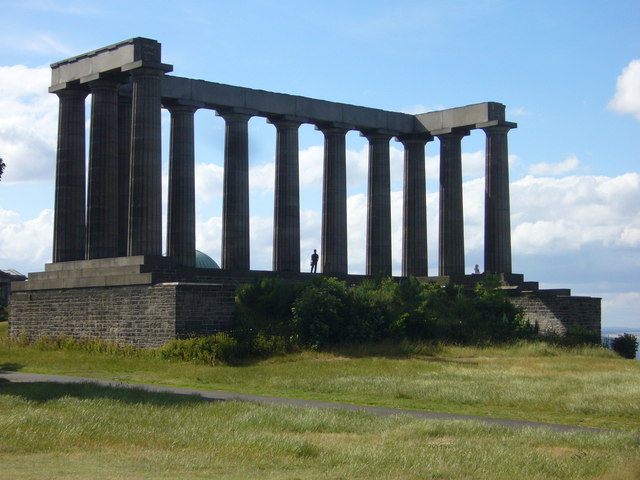 Carlos Zambrano is like the Scottish National Monument
In the wake of the Napoleonic Wars, there was a call in Edinburgh to create a memorial to fallen Scotsmen.  The city turned to Charles Robert Cockerell, who had recently taken over for his aging father.  Their idea was to create a replica of the Parthenon in Athens on top of Carlton Hill, with catacombs underneath for honored dead.  The city and Cockerell estimated that it would cost somewhere around £42,000 to complete.  When the city had secured £16,000 from its citizens and a £10,000 grant from Parliament, construction began in 1826.  Unfortunately, the funding ran out in 1829 with the structure not even half-way completed.  There have been various proposals over the years to finish the project, one as recently as 2004, but has not met with public support.  So, today, on one of the highest hills overlooking the greatest city in Scotland, there's a half-finished replica of the Parthenon just kind of lying dormant.  Like the Greeks had to leave in a hurry. Locals call it Edinburgh's disgrace.


The Cubs' disgrace is certainly Carlos Zambrano and his monumental contract.  Signed in the heyday of large pitchers' contracts of 2007, Hendry committed the Cubs to spending $91.5 million over five years, with the possibility of a vesting option in 2013.  Like the Scottish Memorial, Zambrano's deal wasn't necessarily a terrible idea at the time.  Both Hendry and the city of Edinburgh had noble intentions.  Zambrano was 26, and had just finished a four year run where he had averaged 215 innings, a 3.14 ERA, and 4.8 Wins Above Replacement. He seemed to be one of the most stalwart and reliable young pitchers in the game.  But since then, Zambrano has struggled with injuries, maturity, and performance.  In addition to his diminished performance, Zambrano has punched his catcher Michael Barrett, destroyed a Gatorade dispenser with a bat, called his teammates "embarrassing," injured his neck sleeping, screamed at Derek Lee in the dugout, lost his spot in the rotation, admitted he's lazy, missed a team flight, and ripped fans.  And, despite leaving early after his August 12 game and telling teammates he's retired, he's probably still owed another $18 million next year.  Obviously, this is one that the Cubs would like back.
Ironically, according to some reports, both the city of Edinburgh and the Cubs had the opportunity to get out of their trouble at one point.  According to some local legends, Glasgow offered to fund the rest of the monument's construction out of a sense of national pride, but Edinburgh refused to accept help.  Likewise, the Mets offered Oliver Perez and Luis Castillo (and the combined $18 million remaining on their contracts) this off-season for Zambrano, which would have saved the Cubs roughly $18 million.  But the Cubs refused to be bailed out.
Alfonso Soriano is like the Broadway Tower.
Across England there are a bunch of hills designated as "beacon hills," which were lit up on special occasions.  One of these is Broadway Hill, located in Worcestershire.  Unfortunately, Lady Barbara Coventry still couldn't see it from her house in Worcester, which was 22 miles away.  So she and her husband, the Earl of Coventry, commissioned James Wyatt to create a tall, skinny, castle-esque structure on top of the hill.  It looks like the most pitiful attempt to resist a siege of all time.  Anyway, it wasn't really good for anything, aside from raising the beacon so Lady Coventry could see it…which she could, by the way, quite clearly.  Today, it remains a tall, useless, skinny castle thing in the middle of a large hill, surrounded by absolutely nothing.  A monument to the cash that was apparently burning a hole in one woman's pocket.
Similarly, Alfonso Soriano is a useless extravagance.  He still hits lefties ok, and has decent power, but has almost no mobility in leftfield (from a guy who was once a homer shy of becoming a 40-40 man in 2002), and of course still couldn't take a walk if his family's life depended on it.  His on base percentage this year is .283.  Somehow, that mark drops down to .268 vs. righties.  He is barely a replacement level player, and the Cubs are somehow still on the hook for $57 million over the next three years.  Like the Broadway Tower, he's going to be standing (mostly) motionless in the middle of a big green field for a long time, with visitors wondering what the hell he was ever good for in the first place.
Carlos Pena, Jeff Baker, Marlon Byrd, Aramis Ramirez, and Ryan Dempster are like the Dunmore Pineapple
In the middle of the 18th century, pineapples were a symbol of wealth, privilege, and prestige, given that they grew half-a-world away and were incredibly expensive.  Enter John Murray, the 4th Earl of Dunmore, who built a hothouse in his walled garden heated by the sun and by two furnaces, and in which he grew pineapples.  Dunmore is best known in the New world for being the immensely unpopular final royal governor of Virginia, who set fire to Norfolk before leaving it in 1776.  Anyway, the gardens on his estate in Scotland are a strange mixture of architectural styles culminated with an intricate stone pineapple that serves as a dome over an octagonal pavilion.  It's extravagant and odd, especially in the small town of Dunmore (population 70).  However, it was functional, as it provided enough heat and humidity to grow the tropical plants that Dunmore wanted.
Likewise, the Cubs have a lot of interesting parts that don't really belong with a franchise who should be rebuilding.  Carlos Pena is a 33 year old first baseman on a one-year, $10 million contract, and may not bring back any draft picks if he leaves this off-season.  Jeff Baker is a 30 year old utility player who can't play shortstop, makes a million dollars, and who will be a free agent after 2012.  Marlon Byrd is 33, miscast as a center fielder, and entirely batting-average dependent.  Aramis Ramirez is still productive, but has an option that is not going to be picked up this offseason.  And Ryan Dempster, while he remains a strong starter hamstrung by a bad defense, is also expensive and 34.  All of these players should have more marginal value to other teams than they have to the Cubs.  They simply should not be on the North Side.
Yet Hendry refused to deal any of them, save Ramirez (who refused to exercise his no-trade clause).  It's unclear what a team with a .440 winning percentage needed with an aging first baseman and a fungible utility player, but both of them could have brought back building blocks to make the next Cubs team better.  Instead, they're being used to drive the Cubs' attempt to shoot past the Pirates for 4th place in the NL Central.  Whoopee.  Maybe the next architect will know what to do with this strange collection of misfits and monstrosities.
The Common Man writes for The Platoon Advantage and is building something special on Twitter.