Say what you will about the injustice of a 162 game season coming down to a staged play-in game featuring a pair of teams six games apart in the standings– and there certainly is plenty to say– it promises to be nothing if not fun. Or, in what I can only assume would be the preferred parlance of fans of the home team, a hoot.
Though, thinking about it, that's probably more a term reserved by neutrals, as it will be all nervous tension for fans of the defending World Series champions from St. Louis, and those in Atlanta who may be facing one final opportunity to see their legendary, long-time third baseman go #yicketty.
Yes, it's the Barves and Cardinals, fighting for their playoff lives, and the opportunity to face the Washington Nationals, in a winner-take-all battle between two excellent lineups, and two surprisingly successful pitchers– Kris Medlen for Atlanta and Kyle Lohse for St. Louis– that has all the makings of an instant classic.
As long as we put aside our concerns about the fairness of the format and the scheduling, I think every single baseball fan couldn't possibly disagree that this is pretty seriously great.
As I've mentioned a couple times over at DJF, I'll be following the entirety of this evening's game right here, in much the same format that Parkes did earlier in the week when the Rangers and A's squared off for the American League West title on the last day of the season. So strap in and get ready to enjoy some ridiculous MLB action…
First Inning
An emphatic, hefty dose of strikeouts characterizes the first inning, as Kris Medlen and Kyle Lohse each punch out two. It might be surprising to someone who was only looking at the overall numbers for the two pitchers this season– especially Medlen, who has likely been baseball's best pitcher in the second half, and has seen his strikeout rate rise from each month from a respectable 15.8% in June, to a ridiculous 28.9% in September.
Lohse K'd Bourne and Heyward, bookending a fine play from first baseman Allan Craig, but it's Medlen, and his efficiency, that truly impressed.
Second Inning
Jason Heyward showing that he's much more than just a ridiculously dangerous hitter, as he robs MVP candidate Yadier Molina of a home run, fighting off the sun to make a great catch, extending his glove up over the the yellow line atop the fence at Turner Field to haul in a ball hit very hard off Medlen, who previously had looked great, taking just 13 pitches to get through the first.
Um… OK, so maybe it sounds a little bit more elegant than it really was…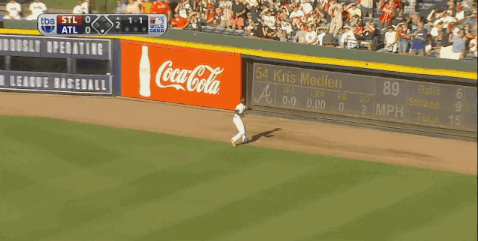 That ball excepted, Medlen continues to look excellent– which only makes sense, given that we're told, on the international feed, that the Braves have won in each of his last 23 starts… or something similarly ridiculous (it's actually just 13, but still). He strikes out last year's playoff hero David Freese while on his way to a 1-2-3 inning.
Chipper strikes out, to lead off the bottom of the second, but that doesn't mean a lack of #yicketty, as after Freddie Freeman strikes out, Dan Uggla walks, and then David Ross– somewhat surprisingly given the start behind the plate in place struggling former All-Star Brian McCann– comes to the plate. Before Lohse delivers his 1-2 pitch, Ross calls time, which is granted very late by umpire Jeff Kellogg. Lohse delivers anyway, and Ross swings through the pitch. It doesn't count, so Lohse comes again and Ross parks a changeup into the seats beyond left centre, a two run home run, and the Barves lead 2-0.
Third Inning – Barves 2 – Cardinals 0
Did I seriously just hear a plug for Bleacher Report on the international feed? PUKE!
Of course, at this point I think I might prefer hearing that than hearing about how awesome we're supposed to think it is that Brian McCann was on the top step, there to be the first to congratulate David Ross on his home run.
Honestly, what did you think Brian McCann would do when Ross hit it out? Stomp down the tunnel and sulk? Piss on the field?

— Drew F (@DrewGROF) October 5, 2012
On the field? The Cardinals go 1-2-3, while Michael Bourn leads off the bottom of the frame with a single up the middle, but his teammates can't do anything with it.
Fourth Inning – Barves 2 – Cardinals 3
Yicketty? More like yucketty, amiright? After Carlos Beltran breaks up Medlen's no-hitter with a single to right, Matt Holiday hits a screamer to the venerable Mr. Jones at third– an easy double-play ball, but Chipper sails his throw to second over Uggla's head and the Cards end up with runners on first and third with none out.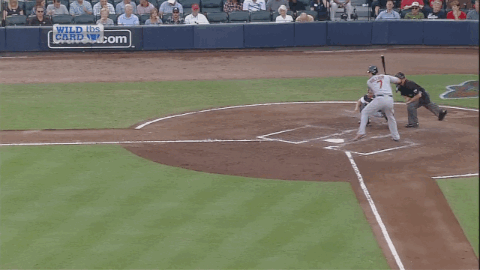 Allen Craig follows with an RBI double over Martin Prado's head to score a run, leaving Holiday at third. A Molina ground out pushes Holliday in and moves Craig to third, and then Freese hits a fly ball to centre, drawing a high throw from Michael Bourn that allows Craig to score easily. St. Louis takes the lead, 3-2.
Fredi the genius! The David Ross show continues in the bottom of the frame, as the catcher drops an excellent bunt down the third base line for an infield hit, moving Freeman, who opened the inning with a single and moved to second on an Uggla grounder, to third.
Young shortstop Andrelton Simmons is up next, and he somewhat inexplicably bunts too, with Kris Medlen due up behind him– but he looks safe as the ball thrown from Lohse careens into the outfield. Unfortunately for the Barves, the ball had hit Simmons, who had been running inside the base path, meaning he's called out– absolutely the right call. Freeman, who had crossed the plate, goes back to third, and Medlen comes up, promptly striking out to end the threat.
Simmons ran the first-base line like a 4 am drunk. Calling it weaving would be generous.

— Guy Spurrier (@grspur) October 5, 2012
Fifth Inning
Medlen keeps on dealing, going 1-2-3 again, but now it's not going to be enough, as he's behind, despite only one of the three runs scored by the Cardinals being earned. Chipper's error looms large in what could be his swan song.
Lohse makes an excellent deflection with the trapper on a comebacker from Bourn, throwing him out to start the bottom half of the frame. He keeps on rolling– not just in this game, but in his season, which is truly confounding for those of us who remember his two uninspiring years in 2009 and 2010.
This game is, surprisingly, humming along. Though we're still a little way from seeing the parade of relievers: both pitchers end the fifth with pitch counts in the 70s.
Sixth Inning – Barves 2 – Cardinals 4
After a Charlie Beltran flyout, Matt Holiday crushes a two-seamer to give the Cardinals a 4-2 lead. Medlen has been good, but it's starting to slip away from him, and the big moment continues to be Chipper's errant toss, which you can see in GIF form below. At the very least, I'm sure Jeff Kellogg is pleased.
Well, apparently he's not the only one:
hey chipper i.imgur.com/VoRYr.gif

— Fredi Gonzalez (@Frediot) October 5, 2012
And it begins…
Kyle Lohse is out of the game, as Lance Lynn comes into the game to retire David Ross with a runner on first to end the sixth.
Lohse threw 81 pitches, 57 for strikes, giving up six hits, one walk, two earned run on the Ross home run, while striking out six. A solid, competent job.
Seventh Inning – Barves 3 – Cardinals 6
Never one to keep his hands clean, Mike Matheny has started mucking about, pinch running for David Freese after the third baseman reaches on an error and finds himself on second base. And then come the bunts! Daniel Descalso lays one down that puts pinch runner Adron Chambers on third, ending Medlen's evening. The Barves hurler finishes with 92 pitches, giving up four runs, two earned, on three hits, no walks, having struck out four.
@briligerent David Freese is a guy you can't count on late in an important game anyway

— Josh Martin (@JoshDMartin) October 5, 2012
My ladyfriend after Ted Turner appears on the screen and I remark on his sailing career: "Why do rich people always get cool boats??!?" Hear hear.
And then it's error time! After the pitching change brings in Chad Durbin, Pete Kozma hits one to Andrelton Simmons at short, who attempts to fire it home to get Chambers, but the throw is way off, allowing the run to score, with Kozma making it to second, ending Durbin's night almost as soon as it started. This now makes it 5-2 for the visiting Cardinals.
Johnny Venters comes in to pitch for the Barves, while Matt Carpenter comes in to pinch hit for Cards pitcher Lance Lynn. And Carpenter promptly taps one back to Venters, who goes for the tag and misses! Kozma flies around the bases and scores, putting the Cardinals up 6-2.
In the bottom half of the frame Edward Mujica comes in to pitch for the Cardinals, replacing Lance Lynn, and moving into the sixth spot in the order that had been occupied by Adron Chambers, after he pinch ran for David Freese. Matt Carpenter, who had pinch hit for Lynn, stays in the game, replacing Freese defensively at third.
[Deep breath]
Meanwhile, after Kozma pops out, the Barves have a substitution of their own, as Jose Cantstandya pinch hits for Venters, and promptly clubs a triple, scoring on a ground out from Bourne, cutting the lead to 6-3 Cardinals. Prado then singles, and we have yet another pitching change, with Matheny bringing in the lefty Marc Rzepczynski with two down to face Heyward.
Heyward gets jammed by "Scrabble," but the ball finds a small patch of daylight, falling in as a bloop, and sending Prado to third, while Heyward makes it to second, setting up redemption time for ol' Chip… who grounds out to second on the first pitch.
But hey, man, Chipper shouldn't even have to play in this damn game:
"If we're going to continue to let teams in year after year … let's just have everybody in," Jones said prior to the game, according to ESPN.com, his drawling voice oozing with sarcasm. "Let's play 162 games to seed yourselves and then we'll let the Astros (baseball's worst team) have a shot at it and whoever else wants a shot at it. A six- or seven-game winning streak and you're the world champion."
Doubt he's feeling any better about the format at the moment.
Eighth Inning
A Molina double play ball– made possible by a great play on a wild throw by first baseman Freddie Freeman– ends what could have been an opportunity to truly put this one away, but the Barves get to their frame still down only three, facing Matheny's setup man, Mitchell Boggs, who nearly takes off Freeman's balls before walking him– his first batter faced.
Uggla follows up with what should be a double play ball, but Kozma bobbles and is only able to get the lead runner. Ross makes it a three hit night, and the Cardinals get Jason Motte warming up, as the potential that they'll need their closer for more than three outs begins to loom in this Atlanta mini-rally.
HOLY WOW! Simmons hits a lazy pop-up that lands between Kozma and Holliday in shallow left, loading the bases, but… HOLY DOUBLE EFFING WOW! We've got an #umpshow in progress, as the infield fly rule is called, making Simmons out, but leaving runners on second and third with two down.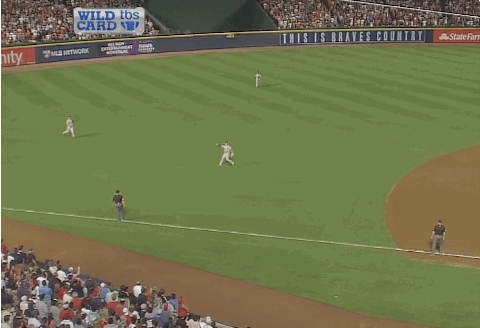 And the Cardinals take their players off the field, as bottles, cups and various garbage comes raining down from the stands after the late call. The fans are upset with umpire Sam Holbrook, and rightfully so.
"This is absolutely embarrassing for Atlanta fans." You've seen their chant, right?

— Jake Goldsbie (@JGoldsbie) October 5, 2012
More importantly:
There is no way that ball could be caught by an infielder with "ordinary effort." Total incompetence by the umpires. — keithlaw (@keithlaw) October 5, 2012
Seriously, maybe the worst call I've literally ever seen. Sub-NFL replacement ref stuff. Big delay here, as there is a LOT of garbage to be cleaned from the field of play, and it's still coming.
And we've now got a game under protest, as Fredi Gonzalez has gone to the umpires to say as much, under the belief that this was a rule that was not applied properly. Jason Motte is coming in for St. Louis regardless, but there's a chance Gonzalez's protest is upheld, which would make Simmons safe, loading the bases with one out. The umpires are currently in the Atlanta dugout, on the phone with the NHL Head Office, or something– though we're not sure it's to do with the protest as much as for the safety of the players, as those keen Atlanta fans saved some debris for when the Cardinals re-took the field, and have begun throwing things again. Yeeeeee-haw!
And because there isn't enough damn confusion, apparently Matheny is making it a double switch, taking Matt Holliday out of the game, with Shane Robinson taking over in left.
After an 18 minute delay, and apparently now under protest, we're finally back– and Brian McCann is into the game, pinch hitting for pitcher Eric O'Flaherty, who I believe we last saw sometime three weeks ago. More debris delays, as Beltran spots more garbage out in right field, and then we're finally back underway. For real this time.
McCann walks, and Tyler Pastornicky pinch runs for him, representing the tying run. Also this:
MLB's official twitter account used to say, "We don't understand the infield fly rule, either" in its profile. But that's now been removed

— Larry Stone (@StoneLarry) October 6, 2012
Over-throwing, Motte has trouble finding the strike zone, but eventually gets it together enough to get Bourne swinging, ending the bases loaded threat, and one seriously ridiculously crazy inning. Just… wow.
Ninth Inning – Barves 3 – Cardinals 6
This is going to be real anticlimactic, isn't it? I mean, how could it not be?
The Braves fans are yelling "infield fly!" at every deep ball hit– and surprisingly there are a couple, despite the fact that it's Craig Kimbrel on for the Braves, dominating with a 1-2-3 inning as usual, but not living up to the insane 50% strikeout rate we saw from him in the regular season.
Motte returns to the hill, set to face Prado, Heyward, and ol' Chip, in what may very well be the last at-bat of a tremendous MLB career.
Motte has settled down, is throwing darts, and quickly disposes of Prado and Heyward, leaving one out and Chipper Jones standing between the Cardinals and a date with the Washington Nationals. An emotional, big moment for Chipper here, but not a lot of time to take it all in, as this is still an intense game, slipping away as it might be for the Barves.
Chipper swings hard through the first pitch, takes a ball, then fouls one off. Tough spot.
He lays of the 1-2, fouls off the first 2-2, and re-focuses. Then, a ridiculously fitting final at-bat for Jones, in an insane final game, as he gets busted inside, breaks his bat as the ball goes out to Descalso at second, who tries a jump throw that pulls Craig off the bag– infield hit!
Then Freeman makes it a three hit night, splitting the outfielders with a ground rule double to left-centre. Incredible! Tying run to the plate! Here's Dan Uggla! Break out the racist chant!
Tim Hudson gets warming for the Barves, as Uggla faces Motte, taking a tough strike to go 1-2, pushing the Cards ever so close to closing this out… finally.
And there it is: a bouncer up the middle, but Descalso is there, he throws him out easily, and the Cardinals win 6-3, ending the Chipper Jones era in yet another rain of debris. Embarrassing for the fans, and for the game– though it turns out Holbrook's infield fly rule call was closer to a technical application of the rule than it seemed on first blush, though hardly, to my view, in the spirit of the rule… for whatever that's worth. And it doesn't matter now anyway. It's over. An epic.