Part of what makes baseball so wonderful in comparison to other sports is that the game doesn't consider its spectators to be idiots. It allows for breaks and pauses so that hose watching might actually carry on a conversation without the threat of missing out on what is presumed to be the ultimate goal of viewing a baseball game: witnessing spectacular athletic feats with pitching, batting and fielding.
Baseball, when we think about it in this fashion, isn't a petulant child, clamouring for attention. Instead, it's a confident adult, secure enough in itself to go about its business without requiring a shift in the attention of others.
While this recreational pace is certainly true of individual games, the stories that emerge from three days of baseball can be hard to catch up on if they're missed. This is most definitely the case during the first week of October when Major League Baseball's post season begins. It seems that important story lines and trends are emerging every hour, one on top of the other.
If you've been overwhelmed by this cavalcade of narratives, have no fear. Getting Blanked is here to not only get you up to date on all of the latest happenings from the playoffs, but also cut through the noise of that's being talked about.
Infield Fly Rule
During the eighth inning of Friday night's Wild Card play-in game between the St. Louis Cardinals and Atlanta Braves, Andrelton Simmons came up to bat with runners on first and second and one out. He hit a shallow fly ball between the shortstop and left fielder that was called for an infield fly by left field umpire Sam Holbrook. The ball was much deeper than a typical fly ball that would invoke the infield fly rule, so much so, that when Holbrook verbally called it, Cardinals short stop Pete Kozma confused it for his teammate calling him off, and allowed the ball to hit the ground.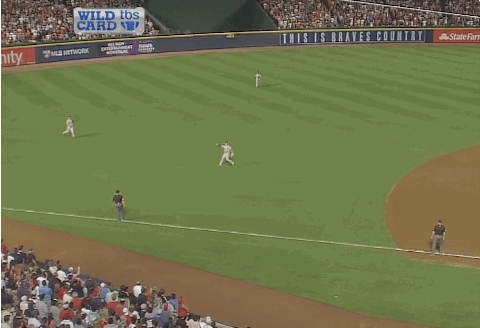 However, there was nothing wrong with the call by the literal rules surrounding the infield fly, which specifies "ordinary effort by the infielder," but not the actual location of the fly ball. It would have been an easy catch if Holbrook had not distracted Kozma.
Atlanta Braves fans were not quite so willing to see things this way. They littered the field with trash, delayed the game, and ultimately blamed the controversial call for the Braves losing. I don't want to get into a butterfly effect thing, here, but the score was six to three for the Cardinals at the time, and let's say that Kozma wouldn't have caught the fly ball. It would've resulted in the bases being loaded with one out. Certainly, that's an advantageous circumstance, but the run expectancy for that situaiton is half of what the Braves would've needed to tie the game.
Atlanta is out of the playoffs, not because of bad umpiring, but rather because Kris Medlen didn't have a very good start, and the Cardinals pitching was able to neutralize the Braves lineup for the most part.
The entire ordeal leaves me wondering why the infield fly rules exists at all. If we accept that a batter can hit into a double play with ground balls and line drives, why can't we do the same for an infield pop up, which is much more of a mistake by the hitter than either of the alternatives?
Josh Hamilton's Last Game With The Texas Rangers
A lot of attention was given to Chipper Jones in the first Wild Card playoff game because it ended up being the last game of his career. However, the Texas Rangers losing to the Baltimore Orioles in the other Wild Card game most likely also represented a finale of sorts, as Josh Hamilton gets set to test the free agent market after five successful seasons in Arlington.
After dropping an easy fly ball that might have cost his team the game and their guaranteed entry into the ALDS in the final game of the regular season …
… Hamilton went 0 for 4 with two strike outs and grounded into a double play in his team's only playoff game. In terms of win probability added, he cost his team more than any other player during the final game for the Rangers.
Given his struggles this season, both on and off the field, Hamilton won't exactly be leaving with Nolan Ryan and Jon Daniels wanting more.
Home Field Advantage Isn't What It Used To Be
Given the eagerness with which Major League Baseball enacted its expanded playoffs format, some compromises had to be made in order to make post season scheduling feasible. The biggest of these compromises was to rejig the home and away format for the best of five division series. Instead of the schedule allowing the higher seed to play two games at home, two games on the road, and then, if necessary, the deciding game back at home, the playoff schedule in 2012 gives the lower seed the first two games at home, followed by the higher seed receiving three straight games at home.
The effects of this change have been most impactful on the Oakland A's, who despite having a vastly superior record than the Detroit Tigers, started their AL Division Series in Michigan instead of California. After getting shut down by Justin Verlander in Game One, the team failed to hold the lead on multiple occasions in Game Two, and lost on a walk-off sacrifice fly. The series now goes to Oakland where the superior team may only get to play a single playoff game at home.
On the other hand, the Cincinnati Reds opened their NL Division Series in San Francisco against the Giants, who had an inferior regular season record. In the first two games of that series, the Reds have positively steamrolled their opposition, winning both by a combined score of 14-2. The series now goes to Cincinnati where the Reds haven't lost three games in a row all season long.
While some might argue that the new format isn't fair, I'm of the mind that the ballpark in which teams play have far less of an impact than the general randomness of deciding superiority in baseball through a best of five series.
Kiss It Good Bye
As mentioned, the Oakland A's are in desperate need of a turn around as they head back to the Bay Area for Game Three. Their motivation for changing the momentum of the series won't be in short supply after Josh Reddick complained about the antics of Al Alburquerque, after the Detroit Tigers reliever kissed the baseball he snagged off of a Yoenis Cespedes comebeacker, before throwing it to first for the out.
According to Reddick, who surprisingly wasn't speaking of Jose Valverde:
It did get under my skin. It was very unprofessional. I didn't appreciate that one bit.
Cespedes wasn't quite as concerned as the A's other corner outfielder:
We're not finished yet. When I get back to Oakland, I am going to hit the ball hard against him. And I am going to kiss my bat.
Good News As Bad News In Disguise
Cincinnati Reds starting pitcher Johnny Cueto left Game One of his team's NL Division Series against the San Francisco Giants after only pitching to two batters. He was suffering from back spasms. In his place, Sam LeCure and Mat Latos combined to effectively shut down the Giants offense. After the game, San Francisco batters complained about the effect of preparing for one pitcher and then having to face another.
Now, Cueto is available to pitch Game Four if the series even gets that far, after the Reds took a commanding 2-0 series lead on the back of Bronson Arroyo's ugly leg kick on Sunday night.
There's no excuse to ever lose to someone like this:
The Calm, Cool And Collected New York Yankees
After the New York Yankees abused the Baltimore Orioles in the top of the ninth inning to win their AL Division Series opener on Sunday night, Yahoo! Sports columnist Jeff Passan wrote an entire column suggesting that Derek Jeter visiting the restroom as Russell Martin hit the Yankees go-ahead home run symbolizes how calm, cool and collected New York is in their pursuit of the 2012 World Series.
That sounds like a joke, but it's not. Mr. Passan never stops to consider over the course of 1,100 words that he might be reading a little bit too much into a trip to the bathroom that, objectively, could just as easily represent a moment of fear as it might confidence.
While this type of narrative pumping is annoying, at least it's not another piece being critical of Alex Rodriguez, who despite the team's success on Sunday night, only got on base once via a walk, while striking out three times over five plate appearances. Narratives going to narrative, I suppose.
Managerial Manipulations
There is so much randomization in baseball that we often see proper strategy based on statistical analysis fail. That's because good process doesn't always mean good results. However, in the first game of the NL Division Series between the Washington Nationals and St. Louis Cardinals, manager Davey Johnson out-duelled Mike Matheny both in terms of strategy and on the score board.
Down by a run in the top of the eighth inning, with runners on second and third and two out, Nationals manager Johnson made it appear as though he was going to send up the left-handed hitting Chad Tracy to pinch hit for the pitcher. Matheny responded by pulling Mitchell Boggs, and bringing lefty specialist Marc Rzepczynski into the game. Johnson then sent up the right-handed hitting rookie Tyler Moore to pinch hit instead of Tracy, a move that Matheny really should've known was coming given that Tracy only collected only nine plate appearances against southpaws all season long.
Moore cleared the bases with a single to right field, giving Washington a 3-2 lead that they didn't give up. If Matheny was so concerned with a match up involving Boggs and Tracy, why did he go to Rzepczynski instead of the all around superior Jason Motte who would have best protected his team's lead against either a right-handed or left-handed batter.
And The Rest
Jim Tracy has stepped down as manager of the Colorado Rockies. It was the most sound strategical maneuver of his career. [Purple Row]
Jonah Keri interviewed Colorado Rockies GM Bill Geivett before this latest bit of news. [Grantland]
The Cleveland Indians have hired Terry Francona as the team's new manager. [Let's Go Tribe]
Matt Kemp's shoulder was more damaged than expected, and he could miss some time in 2013. [L.A. Times]
The Wild Card playoff game did very well in terms of television ratings. [Biz Of Baseball]
As Toronto Blue Jays GM Alex Anthopoulos continues to suggest that John Farrell isn't going anywhere, let's take a look at what precedent suggests the Boston Red Sox would have to pay their AL East rivals to attain his services. [Boston Herald]
It's useful at times like this to remember that the Baltimore Orioles are not a very good baseball team. [Sports On Earth]
The differences in catcher mit placement. [Baseball Prospectus]
Josh Hamilton: The most confusing free agent ever. [Fangraphs]
Top 50 pitching prospects. [Minor League Ball]