There isn't a lot to say about Tim Lincecum's performance on Saturday night. Whining about his pitch count misses the point entirely, as though a six-year veteran staring at eight days off isn't capable of throwing above a certain number of pitches – almost all of which were thrown in low-stress situations.
There is not a lot to say about what this no-hitter, a dominant 13 strikeout performance against the Padres en route to a 9-0 win, adds to Tim Lincecum's legacy. Tim Lincecum has two World Series rings and two Cy Young awards – one great start in a gigantic ballpark can't knock this ship off course.
But Tim Lincecum's start on Saturday night wasn't nothing. It was awesome, an amazing performance by a man with all the bonfidas but not a lot in the way of recent success. While Lincecum's legacy is secure, this no-hitter gave some Giants fans a chance to remember how much Tim Lincecum meant to them, before the relationship soured ever so slightly.
Despite their Bay Area sensibilities and recent run of incredible success, many Giants fans seemed to have turned the page on Tim Lincecum. His history will ring out for a long time but his present was less than peachy. Some want him traded before the deadline, as he is a free agent who represents a decent piece on the market.
Others hoped for him to become a reliever full time, returning to the role that brought him so much success during the 2012 playoff run.
All these options remain in play for Giants GM Brian Sabean, though there might be a little bit more pushback from the fans after Saturday's dominant outing.
| Pitching | IP | H | R | ER | BB | SO | BF | Pit | Str | Ctct | StS | StL | GSc |
| --- | --- | --- | --- | --- | --- | --- | --- | --- | --- | --- | --- | --- | --- |
| Tim Lincecum, W (5-9) | 9 | 0 | 0 | 0 | 4 | 13 | 32 | 148 | 96 | 46 | 27 | 23 | 96 |
| Team Totals | 9 | 0 | 0 | 0 | 4 | 13 | 32 | 148 | 96 | 46 | 27 | 23 | 96 |
It was nothing if not dominant, as the Padres had no answer for the changeup and curveball combination Lincecum flashed, harkening back to award-winning campaigns of yore. If you want more reasons to appreciate Lincecum's night, McCovey Chronicles has 50 of'em!
So congratulations, Tim Lincecum. Like you need them from the likes of me. If this is your final season as a member of the Giants, thank you for all you did.
RELATED
Tim Lincecum coaxed 27 swinging strikes, as you can see above. That is the most in his regular season career, though not as many as his incredible Game 1 start in the 2010 NLDS. Which is embedded above. Which you should watch. Because Timmy.
Photo of the weekend
Duh.
RELATED
Yes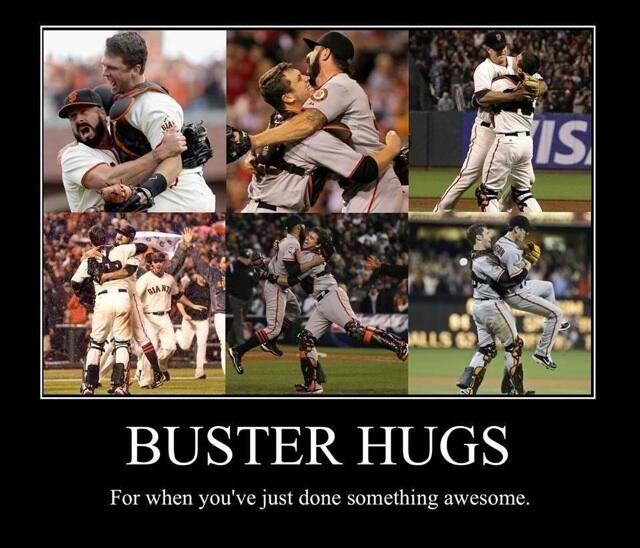 STILL RELATED
Tim Lincecum takes time out from his no-hitter to express concern for home plate umpire Mark Wegner's most favorite muscle, just after it receives a near-mortal wounding via an errant splitter. All heart, this kid.
All Starum und Drang
In a new annual tradition, this weekend saw the All Star bodies hit the floor as injuries drove fan selections and managerial choices from the All Star Celebration, kicking off tonight in New York.
As is unavoidable as the rosters stretch forty deep, there are many less-than-deserving players heading to the ASG festivities at Citi Field. Chris Tillman being chief among them.
Sure, Tillman is a good pitcher but the list of "more deserving" hurlers is long and distinguished (HIROK!). But let's think of it another way.
Rather than lamenting a system which rewards pitcher wins and ushers barely-above league average pitchers like Tillman to the league's showcase for its marketable talent, let's use Tillman's pitcher-win influenced selection to re-celebrate two other All Stars: Chris Davis and Manny Machado.
Without Chris Davis's insane power production and Manny's run prevention, how many wins would Chris Tillman have? If you answered "some", you're missing the point.
Any excuse to spin through Chris Davis' insane first half numbers is a good one. After homering in four straight games before the break, he now has 37 home runs on the year and a .315/.392/.717 slash line. Good for a 192 wRC+ and a .458 wOBA. Insane.
37 home runs as a season total has only been done 14 other times since 2011. World beating slugger Giancarlo Stanton hit 37 home runs all of last year, Davis is at that mark after just 95 games. Davis is just seven bombs behind Miguel Cabrera's total from last year.
Any excuse to celebrate Chris Davis is a good one. To say nothing of the apparent ease with which he hits homers, a separate joy unto itself.
RELATED
Since I'm a replacement in the @AllStarGame @mlb they made me drive to New York & I don't even care! pic.twitter.com/Np4P0hBTw4

— Mark Melancon (@Mark_Melancon_) July 15, 2013
SO MANY BODIES IN THAT TRUNK. SO MUCH CARNAGE IN FLUSHING THIS WEEKEND. THE NORTH SHORE STRANGLER TRAVELS BY CHRYSLER INTO YOUR NIGHTMARES.
Game Chart of the Weekend

Source: FanGraphs
The Oakland A's will destroy everything you hold dear without even batting an eyelash.
Great Moments in Release Points
Honestly: where's she think she's going (baby?)
Veteran Pitcher Reads Writing on Wall
@harrypav this is the new MLB by the way

— Brandon McCarthy (@BMcCarthy32) July 14, 2013
Harry Pavlidis is a pitch f/x guru and guy who Knows Things. Brandon McCarthy is Brandon McCarthy, of the Arizona Diamondbacks. Harry was tweeting along to the Futures Game in New York Sunday and made the above observation. I don't actually remember who was pitching at the time but it doesn't really matter. McCarthy is right: this is the new way. Wave after wave of enormous goons with insane stuff are making their way to the big leagues.
In a subsequent tweet, McCarthy mentions the Marlins rotation. Again, he's right. Not only does "Fastball 97, Slider 88, Changeup 90″ describe Jose Fernandez, it also could describe Jacob Turner and Nathan Eovaldi as well. Pitchers with this profile are no longer the freaks from another world, they are on their way to becoming the norm.
Good luck, control guys. May you ride that "pitchability" horse as long as it carries you.
Best Fans in Baseball
"Not even unbridled joy will keep me from my scorebook!" Dedication to the cause, if the cause is "a lifetime of solitude."
The Sunday Lineupiest Sunday Lineup of the Year
It isn't entirely fair to mock this Braves lineup for being a "Sunday lineup" in the "punting on the game" spirit. Even though it was a Sunday day game before the All Star break, there are extenuating circumstances.
Still, the first place Braves trotted out the following lineup on Sunday afternoon against the Reds:
Constanza 7
Simmons 6
CJohnson 5
Gattis 3
Uggla 4
RJohnson 8
Laird 2
Terdoslavich 9
Teheran 1
Backup catcher…playing first (due to injury). Third string catcher catching, complete outfield overhaul (due to injury x 3). Reminder: that's .621 OPS shortstop Andrelton Simmons hitting second and Gerald Laird of "Gerald Laird" fame hitting not-eighth.
This lineup did manage to push four runs across in the loss. A temporary situation until the Braves can get their real (highly underwhelming/disappointing) outfield back in place.
Giancarlo Stanton, Human Highlight Film
Stanton. The best.
RELATED
Billy the Marlin hates Natitude as much as I do. You're alright, Billy the Marlin.