For some reason I've become quite intoxicated with the shootout. Not in the sense that I wake up the morning after watching a three-man skills competition in a daze, my mouth dry and faint fumes of gin on my breath, but it's become a challenge that I'm quite fond in measuring, not only that, you would be hard pressed to deny its impact on the National Hockey League playoff races as we come down the stretch.
After 1159 games in the NHL season, there were 278 games that went into overtime, or just under 24% of hockey games where an extra point was handed out. Of those 276 games, 168 of them went to a shootout, but surprisingly, it hasn't had as much of an effect on the overall standings as you'd think:
Check out the standings "real" standings in the Eastern Conference, for instance, next to the "shootout adjusted" standings which award a one-point tie for games that make it to the end of Overtime with a team unscathed and removes an extra point for the loser of 4-on-4 Overtime. Obviously, some teams wouldn't be as aggressive without the one point guaranteed, but there are odd similarities:
| Team | Pts | Team | Adj. Pts |
| --- | --- | --- | --- |
| *NY Rangers | 105 | *NY Rangers | 99 |
| *Boston | 94 | *Boston | 85 |
| *Florida | 90 | *Washington | 79 |
| Pittsburgh | 100 | Philadelphia | 92 |
| Philadelphia | 98 | Pittsburgh | 88 |
| New Jersey | 94 | New Jersey | 80 |
| Ottawa | 88 | Florida | 78 |
| Buffalo | 86 | Ottawa | 77 |
| | | | |
| Washington | 86 | Buffalo | 75 |
Obviously, Philadelphia would take the second spot in the Atlantic Division (the best division in sports, I don't care what Mike Francesca says) under the "adjusted points" criteria, but there's very little change. The division leaders are all the same (UPDATE: I managed to get that wrong somehow, Washington are actually ahead of Florida in the adjusted standings). Even New Jersey, who lead the league with 12 shootout victories, don't improve their placement in the standings. Buffalo is still in a tight race, and, if you go down far enough in both standings, you'll find that Winnipeg and Tampa Bay are effectively eliminated from contention.
So, really, why can't we just enjoy a few fun moves? If you're following a lot of hockey people on Twitter, you're almost guaranteed to be alerted of any shootout. If you have Centre Ice, you can watch most of these things, and even casual fans will be interested. If a few drinks are going around the living room, you can even turn an NHL shootout into a fun drinking game ("goal" "save" or "miss" is a favourite of ours). It's exciting, it's fast, and it's fun to analyze the one-on-one matchups since there's so little we know about it. It's almost guilt-free, too, since you can see that the shootout's effect on the standings is almost nil.
In fact, there are two major changes to the playoff picture without the shootout, and one of them involves fewer NHL playoff games in Philadelphia, which benefits all but battery manufacturers (of course, the caveat is that the shootout means more NHL playoff games in Pittsburgh. If we can invent a format that eliminates both Philadelphia and Pittsburgh from the playoff race, I'm all in favour of instituting that one).
The second major change is Washington, who won just their third shootout on the season last night, are practically a lock at this point, not having clinched a spot, but hold a two-point buffer on the Sabres even if you give Buffalo a win in their game in hand.
Now, this is odd to me. I've chronicled a couple of times in the past the Capitals' shootout difficulties, both in the sense that their star player Alex Ovechkin is not particularly good at them, and also that they're a team with limited options. But one option is almost Mr. Automatic. While I have to think that the inspiration for the name of this blog is Franz Nielsen, a favourite of Justin, lover of backhand shelf goals and the New York Islanders, Matt Hendricks is becoming dirtier at shootouts. When I saw Washington going to the shootout against Boston last night, I told everybody in the apartment to pause what they were doing and crowd around the TV to show off what Hendricks can do.
You could almost do a Systems Analyst post with this move. When he's at the top of the circle, Hendricks kicks, which absolutely freezes Tim Thomas, who isn't just caught on his heels, but he falls right over them. All that's missing is the red shell that Hendricks is throwing at Thomas to knock him over. At that point, it's just a few easy dekes to move far enough to his left and bury. It hardly matters that Brooks Laich won this game on a beautiful backhand shelf deke, what really mattered in this game was Matt Hendricks, making it look elementary.
And it's not the only time it's done. Here he is against the Islanders:
And here he is against Tampa Bay:
Washington have won just three shootouts this season, and have scored 10 goals on 24 shots. Hendricks has scored four of those 10 goals, on just five shots this season. He's perfected something here, just that back leg kick right at the top of the circle, which is strong enough to make the goalie flinch and fall down in an embarrassing manner.
So, the Capitals are the team that's been most affected, playoff-wise, in the Eastern Conference, but their inability to win has given rise to one of the more entertaining plays in hockey: the Matt Hendricks shootout move. Right now, his sample is pretty low—he has just 11 career attempts (scored on seven of them, however)—so we can't anoint him more dominant than Franz Nielsen at this point, but the quality of these goals is impressive. He has dragged goaltenders so far out of position it's comical, and on none of these goals shown has the 'tender come even close to stopping a puck. It's great.
The shootout is a terrible way to decide a game and the three-point system sucks, but moves like Matt Hendricks' are exactly what the NHL had in mind when they instituted this disgrace upon hockey. Gosh, wasn't that move against Thomas such an affront to the great game of hockey: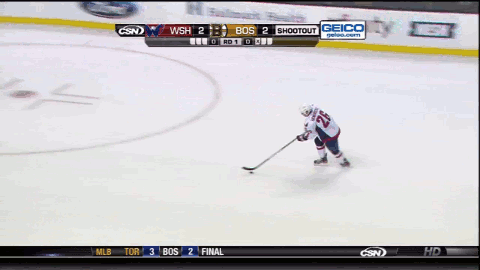 (via Japers' Rink)