Scores
Edmonton 4
Vancouver 2 (Recap)
Los Angeles 0
San Jose 1 (Recap)
Boston 6
NY Islanders 3 (Recap)
Buffalo 0
Pittsburgh 3 (Recap)
***
Notable Numbers
* Tyler Seguin had two goals and an assist, while Jamie Benn had one and one…but the Avs still won 4-3 in regulation. Tough one for the Stars. They played well, but Semyon Varlamov made 41 saves.
* Pretty predictable game for the Penguins. They beat Buffalo 3-0 on the strength of two point games from…Tanner Glass and Craig Adams. Sure. (Sid had two assists as well.)
* Columbus scored twice in the first three minutes against Carolina, and the rout was on. Except the didn't score again, and this happened.
Game, 'Canes.
* Brad Marchand had a goal and three assists against the Isles – that dude has been on a tear lately (12 points over a six game point streak). Also on a tear: Kyle Okposo. More on him in "An Opinion."
* David Perron put a puck in the empty net with just over a minute left to complete his hat-trick, and seal the victory for the Oilers. It's the second of his career, both against the Canucks. Jordan Schroeder scored twice for Vancouver, his first two of the year.
* Jonathan Quick had a 23 save shutout in a 1-0 Kings win over the Sharks.
***
What Happened
Not what the Sabres needed
The Buffalo Sabres have to play nearly perfectly to beat the Pittsburgh Penguins. The whiff by Jamie McBain here – Sabres #4 – to not clear the puck with Crosby's line humming in the zone, does not qualify as "nearly perfect."
***
Blame game
You can blame Hickey and be a bit right, you can blame Poulin and be a bit right…hell, you can credit Soderberg and be a lot right, too. But man. From a defensive standpoint, this shouldn't happen.
***
Could've been worse
The Canucks lost to the Oilers, which isn't good. This save from Luongo…was.
***
Three-pack
The Staal-fecta that I mentioned in Notable Numbers:
***
An Opinion
So, if you're the US Olympic team and an injury opens up a spot on the roster before the Olympics (which I'd give about a 40/60 chance of happening), you're not even blinking and calling Kyle Okposo, right? Maybe you're even hoping for an injury? The dude is on an absolute tear.
Okposo spent some time apart from Tavares and Vanek last night and managed a goal and two assists (plus-two) in a 6-3 loss to the Boston Bruins. He piled up six shots and played 20 minutes while his old linemates got blanked and were minus two and one respectively.
Okposo has 28 points in his last 20 games. That's an unbelievable, prolonged run. And honestly, he's the exact type of player that I think makes the American team such a threat in Sochi: a hard-nosed guy that's a b**ch to play. Backes, Brown, Callahan, Kesler, Oshie, Parise, Van Riemsdyk…sure they have skill guys like Kane and Kessel, but those dudes above aren't gonna make life much fun when the danglers are on the pine. So yeah: given the chance to include the Islanders 25-year-old from St. Paul, I have to believe the US team would take it. He's made his case just about as strong as a human can make it.
***
Other News
* If "something significant" were to happy in Sochi (danger-wise), the NHL would reconsider sending its players. I've got no beef with that.
* Remember that noble scene in 24/7 where David Clarkson gets cut, then nobly proclaims "I'm going back in." And everyone laughs, and he does, because "hockey" or whatever. Well, it turns out you shouldn't expose significant cuts to sweaty old hockey gear, because it got infected, and his recovery time keeps getting longer and longer. What a year. If you recall his initial actions that got him suspended, it's safe to say he prizes "noble" over "smart."
* Isles' goaltender Kevin Poulin has started 28 games this year (three more than Nabokov). He gave up six on 36 shots yesterday before getting the hook, and now sports an .891 save percentage and 3.29 GAA. Nabokov is .905 and 2.85.
* Speaking of goalies, did you know Tim Thomas will be playing in Boston soon? I mean, with the Panthers.
* Habs news: Therrien's job is apparently safe, and there's rumours that they're after PA Parenteau from Colorado.
* STAMKOS WATCH: Some minor reason to be concerned about his Olympic status.
And finally…
* GOALIE BACKFLIP!!!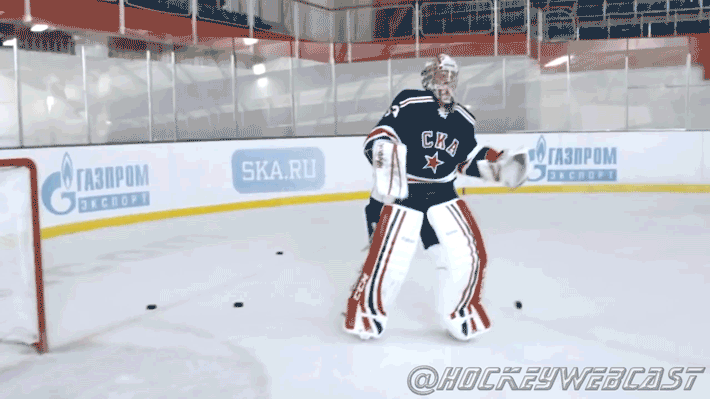 (Okay, it's CGI, but it's still great. SKA St. Petersburg is all over the creative ads.)