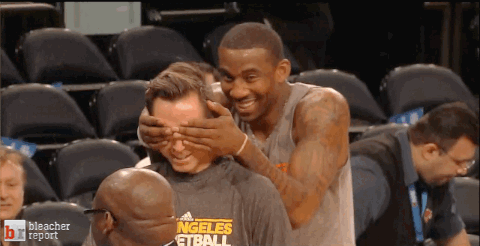 Ballin: Carmelo Anthony scored 30 points on 15 shots in 22 minutes before landing about as weird as a human possibly can and hurting his ankle. Keep that in mind.
Not so much: Once upon a time, the Charlotte Bobcats were 7-5. Now, after last night's loss to the Hawks, they've dropped 10 straight. Hope you enjoyed the fun times while they lasted.
Outburst: Remember that great Carmelo Anthony shooting performance I told you about three sentences ago? Here is his first quarter, which was just jaw-dropping.
This was exciting. 3-pointers are cool. Dunks too.
Quirks: Last night's Hawks-Bobcats game was already the third meeting between the two teams, despite the fact they've only played 20 and 22 games, respectively. The Hawks have won all three.
Step in the name of love: Damian Lillard had a bit of a breakout game last night, going for 29 points, seven rebounds and six assists on national TV. This was one of the shots he made that was very neat.
Stepbacks are the new fadeaways.
Blue streak: Last night's loss to the Trail Blazers gave the the Spurs their first losing streak of the season. Last year they had four, so they're right on pace to do the same this season.
Something new: I guess Kobe Bryant has a hook shot now?
Good to know.
Borrrrring: According to the NBA's YouTube channel, none of the plays in the entire Bobcats-Hawks game were good enough to be a top five play on a night when there were just three NBA games. Seems understandable.
Other things: Tim Duncan had another dunk last night, so pun away if you want … Meyers Leonard wasn't quite so fortunate … Meeting Walt Frazier 15 years apart … Weird donut bit from Reggie Miller and Kevin Harlan last night, but donuts are good so I'm down with it … Ricky Rubio is coming back Saturday, so start stretching your smile muscles