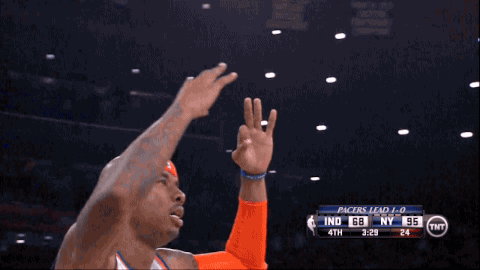 Ballin: Mike Conley had a solid first half, going for seven points and dishing out seven assists while the Grizzlies eked out a three-point lead. In the second half, Conley went off, scoring 19 points on 8-12 shooting while handing out another couple of assists. He also grabbed 10 rebounds on the evening and would have been able to lock in that triple-double if Tony Allen had been able to finish a wide-open layup that Conley set him up for on a backdoor cut. Instead, Tony tried a reverse on the side of the rim he was running away from. It didn't work and he actually kind of got hurt trying it. Consider this an unofficial triple-double.
Not so much: With 3:09 remaining in the third quarter, the Indiana Pacers led the New York Knicks 64-62. They lost the next 15 minutes by a score of 43-15.
A dunk, part 1: Someone should get a body on Iman Shumpert, maybe.
Just a quick reminder that he suffered the same injury as Derrick Rose on the same day as Derrick Rose. Every situation is different, obviously, but you try telling that to Twitter.
Thanks for nothing: Here are some Jason Kidd stats — zero points, 14 assists, nine turnovers. Should have mentioned that was for six games, which means Jason Kidd hasn't scored in six games.
A dunk, part 2: If you've ever thought Jerryd Bayless looks like a tiny Carlos Boozer, well, just look at how much he Boozer's this Kevin Durant dunk.
If you shave your head and grow out a beard, you will get stupid reach-in fouls that give opponents easy and-ones. That is pretty obvious. 36-11-9 for Durant by the way.
Sam Young Memorial Horrible Stint Award: Jeff Pendergraph played three minutes of basketball that mattered last night — those came in the third quarter, though he also got four minutes of garbage time after the game was out of hand — and in those three minutes he got dunked on by Carmelo Anthony, fouled Anthony while he was dunking to give him an and-one and then turned the ball over on the very next possession as Pendy was whistled for a moving screen. Pretty quick yank job after those couple of plays.
A dunk, part 3: Speaking of Jeff Pendergraph being dunked on by Carmelo Anthony.
I agree with Patrick Ewing — both about the fist pump-worthiness of this dunk and that Kangols are the coolest hat known to man. (Assuming that man is Samuel L. Jackson.)
Mello Yello: Through two games of the Thunder's second round matchup with the Grizzlies, Serge Ibaka is shooting 6-22 and has nearly as many personal fouls (9) as rebounds (10).
Other things: Derek Fisher hit three threes in the second quarter and that was pretty cool, I suppose … This is what makes the Knicks so #Knickstape … Shaq doing his best Sekou Smith … Kevin Durant had an amazing chasedown block on a Jerryd Bayless dunk attempt … Cool tucked-in jersey for Spike Lee last night