First and foremost, let's give the NBA a big ol' round of applause for deciding that David Stern's last-ever draft would be one of the craziest drafts in recent memories. While we might not have had a ton of foreign names for El Sterno to pronounce, everything else was sufficiently wacky to honor Stern's big night.
And holy smokes did he revel in it. I've collected what I think is every important clip involving Stern from last night. Considering he was playing to the crowd the entire evening, there are a lot. The one up top is from before the Cavs made the very first pick of the draft, and judging by the way Stern was hamming it up, you could tell it was going to be a fun night.
It took all of zero picks for him to antagonize the crowd.
And then he kept doing it, literally asking for more boos.
He did the hand thing almost every pick, and then he even faked reading a draft pick so that he could get more boos.
Eventually, to guarantee that the boos kept on coming, he zinged the fans.
And then after the boos rained down, he zinged the fans again.
It was a sterling performance by Stern, who is such an institution that he brought up Shabazz Muhammad out of order because meeting Stern is a rite of passage for NBA players. It was super awkward, but it was also very cool because I think every single one of us would want to meet The Commish if we ever got drafted.
When it was time for Stern's last pick, things got sentimental.
There is so much to love about this — Hakeem Olajuwon being awesome and coming back to the draft in his bowtie, people immediately forgetting about Ned Nedovic (a future trivia question answer, no doubt), people cheering Stern as he walked up to the podium for once. But of all that, my favorite part of the whole thing was the couple of seconds of boos for Adam Silver. It was just perfect, like "You're the new commissioner, so you're getting the boos now. No more cheering for you, wizard man." LOVED it.
Another thing I loved was the league tribute to Stern's 30 years of drafts.
Maybe I'm forgetting something, but I don't think I've ever seen that clip of Stern wearing LeBron James' jacket. Now I'm glad I have.
Definitely going to miss this guy. So for now, enjoy this GIF of every one of his No. 1 picks, which started with a Nigerian and ended with a Canadian, of course.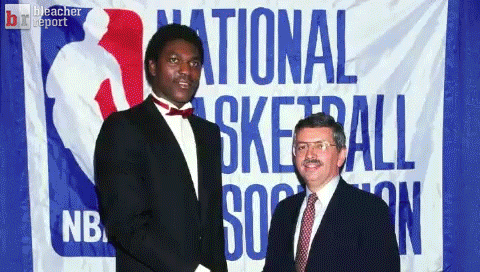 I don't know about you guys, but I would be fine with holding another draft in a month of so, just so we can get one more dose of David Stern. There's probably no way he could top last night, but it'd be fun to watch him try.